About twenty years ago, Liz Taft invited some of the artists she met at Tom Maley's weekly drawing group to gather for critiques of whatever we were working on and an ongoing commentary about art and art-making. Our membership has changed over the years. Some have moved away or died. We have all gotten older. We have all continued to make art. Our monthly crits and conversations have formed the basis for friendships that have nourished and sustained us, along with the art that brought us together.
Artists/Friends: Our Crit Group
Elizabeth Lockhart Taft
Menemsha Creek Fall​
Hermine Hull
Hydrangeas and Lilies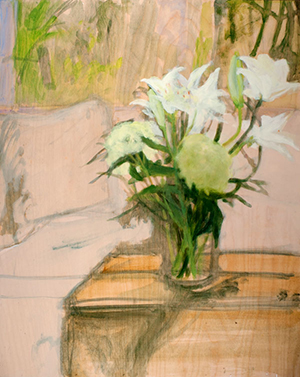 Ruth Kirchmeier
Milkweed, Duarte's Pond
Wendy Weldon
Chilmark Barns
"I have a deep reverence for the Earth." Each of Liz Taft's plein air paintings is a homage to the island. She strives to simplify what she sees, observe the subtle colors and capture the magic that she feels. liztaft.com​​
Elizabeth Lockhart Taft
Menemsha Creek Fall​
Hermine Hull has made art since she was a child with a pad of paper and a box of Crayola crayons. She continues, inspired by the people, pets, interiors, and landscapes of her daily life. She ran Hermine Merel Smith Fine Art until 2019 and writes about art for the MV Times and Arts & Ideas.​
Lyn Hinds undertakes the making of a painting or drawing as a journey which might lead to a new discovery. A specific place, person, thing or event is her starting point but the subject becomes less important than the relationship of shapes and colors that she discovers along the way. The work itself becomes the subject and always the trip is worth the effort. lynmvisland@gmail.com​
Ruth Kirchmeier started out as an artist by painting in oils but was rarely satisfied with what she created. When she began making woodcuts she found the process, with its intricate steps - transferring the draft to the wood, planning the placement of color and line, carving the plates and ensuring that they would register, then printing the plates - was both involving and pleasing.​ http://kirchmeierwoodcuts.com
Although Wendy Weldon's work over the past 50 years has been described as abstract, her paintings can include images inspired by barns and stones from California, Vermont and Martha's Vineyard. Color is her passion. Wendy spends most days painting in her studio in Chilmark. She is currently represented by Knowhere Art in Oak Bluffs MA. wendyweldon.com​
Claire Chalfoun paints from real flowers and photos of gardens, especially inspired by how the colors mix and look together. She studied at Parsons School of Design and the Sorbonne.​
Hover over an image to learn about the artist
On tablets press and hold
​
Galaxy Gallery
A Gallery of Stellar Artists